Skydiving close to the Wisconsin Dells
Located only an hour away from the Wisconsin Dells, Seven Hills Skydivers is only a short trip in the car. While your family enjoys the various activities in the Dells, why not add skydiving to the fun? Seven Hills has facilities for those in your group not jumping to relax, enjoy the outdoors in the country, and watch landings. We also have refreshments available and air conditioned rooms to take a break from the summer heat.
You might also be wondering, "why should I jump with Seven Hills?" Apart from being the closest skydiving center to the Wisconsin Dells, we offer extremely qualified and experienced instructors for the utmost safety. We're a nonprofit, volunteer owned and operated club, and we've been in business for more than 55 years. We're a very family oriented dropzone with a easy going atmosphere. We will make your skydive a safe, fun, exciting experience — one you will not forget.
If you're on vacation and only have time for a quick afternoon or morning visit (or are bringing members of your family to watch), we recommend a tandem skydive. However, we also offer the thrill of solo skydiving (taking a whole day) if that's more your style.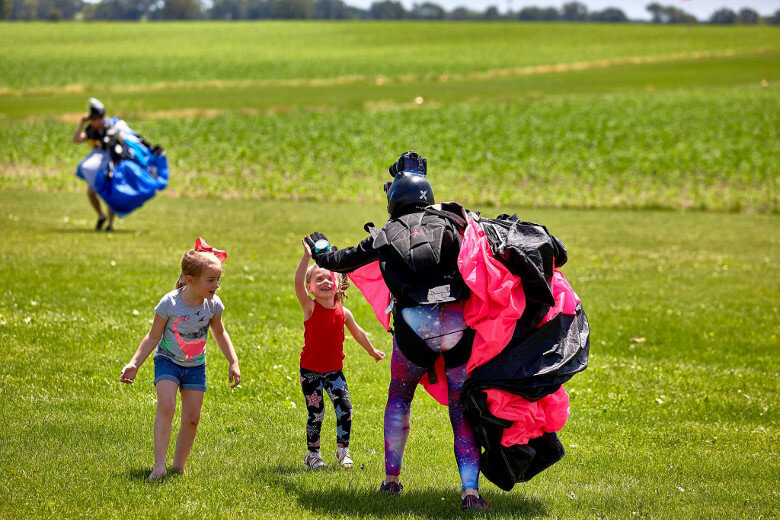 Directions to Seven Hills Skydivers from the Wisconsin Dells
Take WI-16 E
Turn right to merge onto I-39 South towards WI-78/I-90/Merrimac
Use the right 2 lanes to merge onto I-39 S towards Madison
Take exit 126 for Wisconsin V towards Dane/De Forest
Follow I-90 E/I-39 S
Take exit 126
Turn left onto W North St
Continue straight through the 3 traffic circles
Follow Wisconsin V through it's many twists and turns
Turn right onto Wisconsin 73 after ~13.5 miles
Seven Hills is on the left half a mile down the road! 🏁